Fall series: Sep 15 to Dec 15, 2019 (every Sunday except Oct 13)
Participation in this hula halau (school) is one of the best introductions to Hawaiian language and culture. Children will learn both hula kahiko (ancient hula) and hula auana (modern hula), with the basic steps as well as oli (Hawaiian chants). Children will learn a true appreciation for nature, as well as how to make flower lei.
3-6 years old Sundays, 8:30-9:15 am
7-12 years old – Sundays, 9:45-10:45 am
Price: $230 Fall series
$20 drop-in (only for first two sessions)
—-
Just added!!!
3-6 years old – My First Hula Class  Sundays, 9:15-9:45am
This class is geared towards keiki who are new to taking formal classes. Kumu Malia's warm and inclusive style of teaching ensures that each keiki feels right at home. This 30 minute class includes hula basics as well as hula dances that are fun and engaging. 
Families are welcome and encouraged to observe the class as we take frequent hug breaks.
Price: Fall series, $195 
$20 drop-in (only for first two sessions)
Reserve your spot!
Sign up now!
Students will perform in our annual Merry & Bright Celebration on Sunday, December 15th, 5-7 pm.
Kumu Hula Mālia Helelā
Malia is an authentic Kumu Hula: a recognized hula teacher, officially having graduated after 17 years training from her teacher, Pulu'elo Park. Fluent in Hawaiian, Kumu Malia frequently composes her own original oli (sacred chants).  Kumu Malia has an affinity for teaching young children.  For the last decade she has developed lessons specific to infants, toddlers and preschool aged keiki. She also enjoys sharing classic hula and songs with the elderly. In keeping with her tradition, she is an observant and reverent student of nature and keeper of the land – the 'aina.
Sign up now!
Students are introduced to 2 instruments in this series. They dance with an ipu (gourd) and puʻili (split bamboo). Kumu Malia also includes classic hula dances using the hands only. Keiki will have an opportunity to perform on Monday, Labor Day, September 3rd 4-5 pm..
July 1, 8, 15, 22, 29
Price: $75

Sundays 8:30-9:15 am
Sundays 9:30-10:15 am
Sundays 10:30-11:30 am
Reserve your spot! Implements are not included in the series. Please contact Kumu Malia for information about where you can purchase implements malia@stillandmovingcenter.com
Fall series starting September 2.
Sign Up Now!
with with Mālia Helelā, Nia White Belt and Kumu Hula
Saturday, February 13th
9am – Sunset
$125
10% off for Golden Circle Members
$99 for Hula Hālau Members
Hawaiian lomilomi massage is unique in all of the ways that Hawai'i is unique. Flowing trade winds, protective reefs, abundant fresh water and vibrant aloha spirit form the foundation of Hawaiian healing practices. In this daylong immersion, you will embody these inherent qualities of our natural surroundings through lomilomi massage, hula, Hawaiian chants and prayers.
9am – noon at a shady spot in Ala Moana Beach Park
Hawaiian historical context of massage and healing practices
Discussion of the importance of prayer
Prayer composition with input from all students
Hula movements for hands and feet
Hawaiian chanting practice
Sand exercises for hand strength and sensitivity
Group cleansing ceremony in the ocean
1pm – Sunset at Still & Moving Center
Hula choreography
More exercises to heighten touch sensitivity
Floor massage techniques with and without the use of oil
Rooftop closing circle at sunset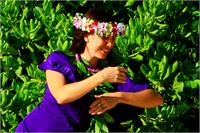 This 8 hour program is meant to provide a foundation in lomilomi that is appropriate for use within the family or in a spa setting. Massage experience is NOT necessary and anyone interested is encouraged to contact Kumu Malia at malia@stillandmovingcenter.com with any questions or concerns.