with Island Mama Yvonne (Yvonne Siet)
Price: $10.
For children ages 3 – 103
Keiki need an accompanying adult
Island Mama Yvonne shares her IMY Kidsjam of world culture through music-dance-art-crafts. This is a celebration of peace and harmony in all the colors of the rainbow. The fun-filled event features dancers and musicians of different cultures, allowing the audience to participate artistically as well. Children will leave with a piece of self-created art in their hands.
Yvonne Siet
IMY, also known as Island Mama Yvonne, is an infectiously enthusiastic emcee and events coordinator extraordinaire. Dividing her time between two shores – Hong Kong and Hawaii – Yvonne's mission is to share her Aloha Spirit with everyone she meets, from the young to the young at heart.  Island Mama Yvonne collaborates with her 10 year old daughter Kalani on all her children's events.
A dancer and artist herself, Yvonne has been working with international musicians and artists of renown since 2000 to create world cultural events and concerts. Her "POPO Song & Dance" with 50 Hong Kong artists/crew was recorded at the world-renowned Peter Gabriel's Real World Studios (England). "Havana Mania Carnival" shared Latin music and dance with Vocal Sampling, the Latin Grammy-nominated acapella group from Cuba. Yvonne's "Hawaiian Family Festival" starred the Na Hoku Hano Hano Award-winning artists Nohelani Cypriano and Nathan Aweau. In 2014 Yvonne brought Hawaiian ukulele virtuoso Taimane to Hong Kong for her debut concert. Most recently, IMY organized Viu TV's cross-cultural music travel documentary featuring the beloved musicians Endy Chow from Hong Kong and Taimane at the historic Governor's Mansion in Honolulu.
 "You can take the girl out of the island but never the island out of the girl."  IslandMama Yvonne continues to spread her ALOHA Spirit whether on her world travels or at her current home base in Hong Kong.
Tuesdays 
4 – 5:15 pm
June 28 – July 12, 2016
Price for 3 week series: $45 
Intended to inspire a healthy lifestyle and strengthen the body, mind and spirit, this series kicks off Still & Moving Center's teen wellness program.
Like the name Still & Moving Center, part of the time we'll be still – talking together about important stuff. And part of the time we'll be moving – doing cool movement practices like self-defense, zen archery, hip hop, yoga, rock fit n' kick or ribbon dance.
These sessions are uniquely crafted to enhance leadership, self-confidence, goal-setting, maintaining safe space, and of course, teen health.
As teenagers, we go through many changes. Our body is on its way to becoming its adult size. We may notice that we can't fit into our old shoes or that our jeans are now 2 inches too short or too tight. Along with these changes, we are probably becoming more independent and making more of our own choices. Some of the biggest choices we face are about our health.
Healthy habits, including eating a healthy diet and being physically active, can help us feel good, look good, and do our best in school, work, or sports. They might also prevent unnecessary problems, such as depression, diabetes, amenorrhea, failure to add bone density, eating disorders, etc. All these can be avoided with good choices in the way we live.  Healthy teens are happy teens.
In 2016 Still & Moving is celebrating it role as a healing center. What a fantastic way this Teens Moving for Health series is to bring something new and meaningful to our community!
"Young people need models, not critics." – JOHN WOODEN
Your Moving for Health coach have spent many years working with teens to help them "claim their magnificence"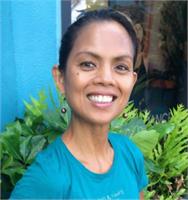 May del Rosario. Moving with May – a personal trainer with over 20 years of ballet, sports fitness and martial arts – is always an invigorating experience! She's fun, encouraging, challenging and professional. This lady has shared her extensive knowledge of fitness through movement in medical, spa, studio and gym environments. Her classes are for everyone: from uber athletes, to pau hana workers wanting a kick-it-up class, to folks struggling with obesity, to fragile seniors seeking to regain their health. May provides personal fitness sessions, nutrition and weight management counseling. Her group fitness teaching experience includes aerobics, turbo kickboxing, ballet, strength training, power cycling, fitness for the unfit, to name a few. Her energy is absolutely contagious to her students!