Sundays – 5:15-6:15 pm
Sign up now!
Partner acrobatics is an exciting practice that involves two or more people, with one person as the 'base' (in lying or standing position), leveraging, moving and supporting another person as a 'flyer'. The poses/skills can be static or dynamic and can be practiced one-off, in a sequence, or in a whole show. It is simply loads of fun! Whether you want to develop skills you can try at home, on the sand, on stage, on surfboards, on ice, or purely for fun in class, you will enjoy this workout, meeting other people, and developing even more trust with your partner.  Partner Acrobatics can eventually evolve into many different disciplines, including: standing acrobatics, circus skills, hand balancing, L-Basing, trio tricks, and much more. The physical intensity of our program is balanced out with therapeutic movements that aim to heal and restore the body.
The heart of Brian's training is the concept of sustainability of the physical body and the use of proper alignment and body awareness to increase performance, while decreasing the risk of pain and/or injury. He guides you through exercises specifically aimed at promoting injury prevention, structural integration and correct movement technique for long-term physical health and fitness.
Brian Batson
From zero to a top-level acrobat in less than four years!  Brian Batson was introduced Acrobatics when he arrived on island and has embraced it wholeheartedly.  Brian is an example of how every person is in control of their life and nothing is impossible.  He learned from the world class athletes of the Waikiki Acrobatic Troupe he has embraced the culture and always strives to improve.  He currently teaches gymnastics at Hawaii Academy. Brian brings an unassuming strength to Partner Acrobatics which shows in his teaching and how he holds space for his students to grow and succeed. His conscientious coaching puts students at ease to have fun, build friendships, and improve their skill while promoting safety above all else.   
Kezia Holm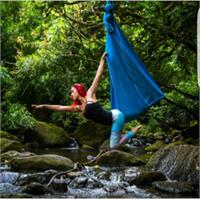 Kezia aims to inspire others to live to their full potential by being open and chasing their souls' passion. Aerial holds a special space in her life. It sparked a fire that allowed her to explode into a whole new rainbow of color and creativity. Kezia took her Aerial Fundamentals and Lyra teacher trainings from the esteemed NECCA, the New England Center for the Circus Arts.
Kezia first dove into flow arts in 2008 when she fell in love with a hula hoop, appreciating its freedom and beauty in the expression. In addition to aerial dance, Kezia is also devoted to other flow arts practices, including horseback arts and yoga. By practicing gratitude for all teachers, experiences and opportunities she has had along the way, Kezia continues to enhance and share her knowledge through study, practice and teaching.  
See Kezia Holm's schedule